All things about playing with your baby
  Parents usually like to make their babies develop a taste for learning, want them to think carefully, independently, can enjoy books, digest complex information by themselves, etc. But it's a baby nature to play. Playing is also important in a baby's development. Why is important to play with your baby? And how to play with babies? We will discuss them in detail as below.
1. Why is important to play with your baby?
good for baby brain development
Babies like to play and like to stay with their parents. If you usually play with your baby, he/she can become happier and more content. Because in the beginning, babies are unfamiliar with the world and all things around them. They can learn and know more things in the process of play.
good for language development
  It is important for parents to enhance the early language development of their babies. And the best age to learn a language is at a young age. Talk to your baby more while playing with them. Mostly, babies can copy what their parents say, word by word, phrase by phrase, and sentence by sentence. They use this skill for learning new words.
stimulates the baby's imagination
  Reading a cloth book can stimulate your baby's imagination. Babies always love colorful books. Each page of them is so interesting and attractive.
2. How to play with babies?
The best way is edutainment. Edutainment is like playful learning. Parents need to help babies to find pleasure in learning, to see knowledge as a source of joy. Babies always can learn new things in the process of play.
give your baby new objects
  All things are unfamiliar to babies. When you want to teach your baby to sit up or grab on his/her own, you can use a new thing, like a toy to attract him/her. Then he/she can learn to use his/her muscles to hold the thing. Babies are natural to pick up toys, look at them, play with them from hand to hand.
  Try not to let your baby always stay at the same place. Give your baby new, different things to look at. Take him/her outside, and to see different people or different rooms. It is good for expanding their horizon, letting them know how big the outside world is.
listen to songs, sing with your baby
  Listening to different types of songs has different functions. Put on the upbeat, joyful music that can make babies excited, and dance with it. Play gentle, soothing music to soothe babies.
3. baby clothes that are good for playwear
  If you want to have a good time with your baby, you should get him/her a baby cloth that is good for playwear. What kinds of baby clothes are suitable?
gentle to your baby's skin
  As we all know, babies' skins are more sensitive than adults. They can not wear bad-quality clothes that are made of fabrics with chemicals. These baby clothes can easily cause skin irritation. The fabrics need to be natural, healthy, sustainable. Like 100% cotton, organic cotton, bamboo fiber, etc.
  Wearing comfortable cloth is important for your baby. On one hand, the comfortable feeling can make him/her feel happy and relaxed. On the other hand, they can play more freely, and have as much fun as possible.
  When considering the baby clothes, they need to be easy to take on and off. Because babies are easier to sweat and need to change diapers in time. Finding a suitable baby cloth can help parents to change clothes for their babies more conveniently.
  I would like to recommend our new ORGANIC ZIPPER BABY FOOTIE PAJAMAS that is good for baby to wear at any time. There are no-slip grippers on built-in footies which can help babies to against falls.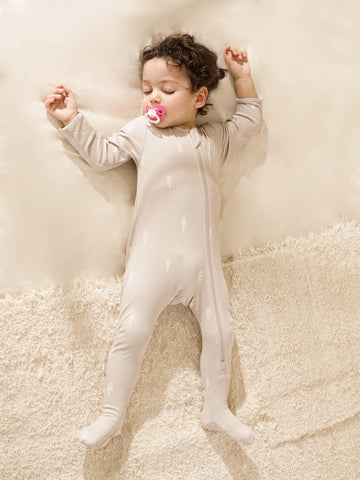 Leave a comment