How to choose an appropriate sleeping sack for a baby?
  Every baby needs an appropriate sleeping sack in their growth. It is a versatile baby product that a baby can wear no matter he/she is asleep or awake. There is a wide range of different sleeping bags available on the market to choose from. How should a new mother choose an appropriate sleeping sack for her baby? Today's article can help confused, new mothers to find the answer.
1. Features Of Sleeping Sacks
  A great sleeping sack needs to be achieved for  the following features:
1.1 warm, comfortable, soft, cozy
  The most fundamental feature of a sleeping bag is that it should be comfortable. Babies can wear them for every occasion, like playing, sleeping, etc. In the choice of fabric, the fabric needs to be high-quality, safe, healthy, and soft on babies' sensitive skin. It is better to make every baby as comfortable as they can be while wearing.
  Besides, the sleeping sacks also need to be good at warm-keeping. Because the resistance and immunity of babies are relatively poor, they are easy to get a cold if parents don't take good care of them.
1.2 easy to take on and off
  In order to keep the baby clean and comfortable all the time. Parents need to irregularly check if their babies are sweating, if they need a diaper change? If the babies' clothes are wet or dirty, mothers need to change them in time.
2. How to choose an appropriate sleeping sack for a baby?
  Every new mother needs a useful, practical shopping guide for sleeping bags. Below will introduce some typical sleeping bags in terms of applicable age from Kaiya Angel:
2.1 newborn to 6 months
  Below three sleeping bags are mainly aimed at newborns to have the prevention of startle reaction.  
1) Front Opening Zip Up Swaddle 1.0 TOG
  This sleeping sack involves some unique sets of designs. An ergonomic one-piece, the waist-skimming design offers babies a safer feeling to make them have a longer, more restful sleeping. At the same time, the loose fit design in the bottom gives babies enough room for kicking, exercising freely.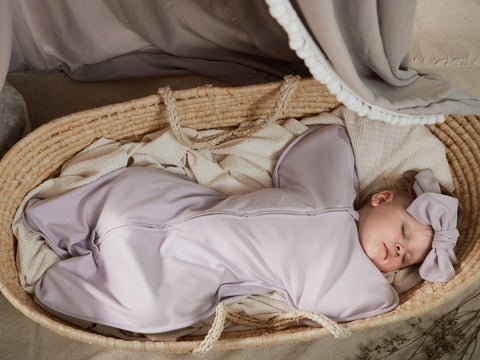 2) Wrap-Around Zip Personalized Swaddle 1.0 TOG
  The most notable feature of this sleeping sack is that its wrap-around closure can simulate the uterine environment, to make babies feel they are still in the womb. They will feel safe. This swaddle also can prevent flailing arms, and protect babies from eating hands, scratching their own faces.
3) One-Piece 3in1 Best Budget Sleeping Bag 1.0 TOG
  The selling point of this sleeping bag is that it has three different wearing methods, including ARMS IN, ARMS UP, ARMS OUT.
2.2 3 months to 2 years old
  The available age range of below sleeping sacks is wider, can go from 3 months to 2 years old. They have longer service lives, and conform to sustainable development. 
1) Front Opening Long Sleeve Sleep Sack
  Grow-with-me adjustable hemline can be taken the stitches out. Older babies can wear it with exposed feet. Besides, the long sleeves are also removable. Parents can remove them easily. Then it will change to a sleeveless sleeping sack. Special design for two ways of wearing to meet babies' different needs.
2) Thicken Long Sleeves Split-Leg Sleep Sack 2.5 TOG
  Compared to the above sleeping sack, the biggest difference of this one is the split-leg design. These sleep sacks for toddlers are good for kicking, standing, walking, etc. Three-dimensional bottom of crotch also gives more space for baby to move freely, and create more comforts while babies are wearing diapers.
  This thicken 2.5 TOG sleep sack is also suitable for winter. It can be used for good warm-keeping.
Leave a comment