How To Choose Suitable Sleepwear Tips For New Mothers?
  Good sleep is an essential component of good development and growth. Without enough sleep, it is hard for a baby to be active during the day.  Newborn babies usually need to sleep for about 16-18 hours a day.
  How to help a baby sleep better? There are many different ways, including choosing a good bamboo sleepwear romper, an arm out swaddle, creating a good sleep environment, moving the baby's crib, tapping the baby gently, etc.
1. how to choose suitable sleepwear?
  Good sleepwear needs to have the below characteristics:
1.1 warm, cozy
  The weather grows colder and colder, the winter comes soon. It is time for parents to start to prepare winter clothes, sleepwear for their babies. The clothes need to be warm. Cozy clothes can help keep up babies' bodies' temperature. On one hand, making babies feel warm can help them have a better quality of sleep. On the other hand, warm clothes can help protect the body against winter chills, and make the body more healthy, babies also will feel happy.
1.2 green, organic, healthy
  Most baby clothes are next to the skin, they are easier to lead to rough skin, sometimes even can cause skin allergies. Because compared to adults, babies' skins are especially sensitive and delicate. That is why Kaiya Angel designers always insist on choosing green, eco-friendly fabrics while designing. There are main three fabrics in Kaiya Angel's official online store: 100% cotton, Pima cotton, bamboo fiber.
1) 100% cotton
  One of the best materials to use for making baby clothes is 100% cotton. 100% cotton fabrics are soft, cozy, comfortable, and have good wet absorption. Besides, baby clothes made of 100 % cotton don't require fabric softener to stay soft and static-free. 
2) Pima cotton:
  Pima cotton is a kind of "Cotton Noble" that has excellent durability, softness, color. All pink items in Kaiya Angel are made of Pima cotton.
3) Bamboo fiber:
  Bamboo fiber is a new fabric that has many perfect properties, including excellent moisture absorption and anti-bacterial.
1.3 comfortable
  Good baby sleepwear needs to be wearable and comfortable. Wear comfortable clothes not only can help babies feel good about their bodies but also can help them sleep tight. 
2. Kaiya Angel typical sleepwear recommendations
2.1 SLEEVELESS THICKEN HEATED SLEEPING BAG 2.5 TOG
  The first recommendation is this sleeveless thick sleeping bag in 2.5 TOG. 2.5 TOG is more suitable for baby wear on cold winter days. It can bring more warmth to babies. This sleeping bag is sleeveless, babies can let their arms out and shake them free. The bottom can be opened, babies can peek their feet out from the end of the sleeping bag while they are learning to stand, walk. So it has a longer service life than a split-leg sleeping bag.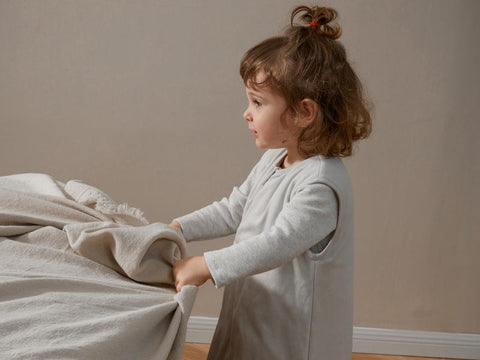 2.2 SLEEVELESS SNAP ONE PIECE GIRL AND BOY
  This is a bamboo sleepwear romper that can be worn under a sleeping bag. Bamboo fiber is a breathable fabric that is anti-bacterial, anti-mite. Sleeveless and leg-free design make babies have freer movement. About the colors of these rompers, Kaiya Angel prepared two colors: gray morn and lilac. These two colors are both gentle and unisex. All-aged baby girls and baby boys can wear them perfectly.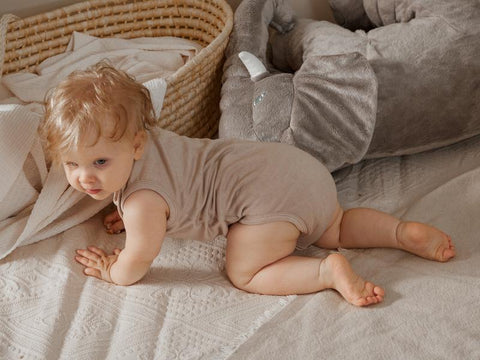 2.3 FRONT OPENING LONG SLEEVE SLEEP SACK
  The bottom of this long sleeve sleeping bag is the same as the above sleeveless sleeping bag, it can be open. What's more, its long sleeves also can be removable. It can be a long-sleeved sleeping bag or a sleeveless sleeping bag. Parents can do the adjustment freely as they prefer.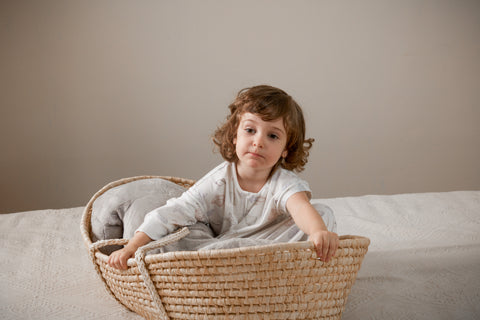 Leave a comment