How to make babies sleep well? - tips for releasing tired parents
  Restless sleep has many disadvantages. On one hand, if a baby doesn't have enough or good-quality sleep. It may affect babies' growth and development. On the other hand, the sleep quality of parents also will be affected. They are exhausted from lack of sleep. Lace of sleep can affect daylight works terribly. Parents need to find some ways to ameliorate the situation. So how do make babies sleep well? Today's article will give some suggestions for releasing tired parents.
1. keep the baby warm
  Winter is coming, and it's getting colder and colder from now on. It's time for parents to pay more attention to warm keeping for their babies. Wear warm clothes, hats, and mittens for babies to keep warm. Especially people are about to go out, babies need to wear layers of warm clothing.
  Indoor, parents can adjust the room temperature by adjusting the air-conditioning. Compared to sleeping bags in 1.0 TOG, 2.5 TOG or 3.5 TOG will be more suitable to wear in winter.
1.1 THICKEN LONG SLEEVES SPLIT-LEG SLEEP SACK 2.5 TOG
  This sleeping bag is designed for winter. 2.5 TOG with folded cuffs and bottoms are better for warm-keeping. Two-way zippers, snaps on the bottom are made for a convenient diaper change. As babies grow up, they will start to learn how to stand, crawl, walk. This sleeping bag has a split-leg design that is suitable for toddlers' wear. Toddlers can move freer. The three-dimensional bottom of the crotch has much more space. Babies can feel more comfortable while wearing diapers.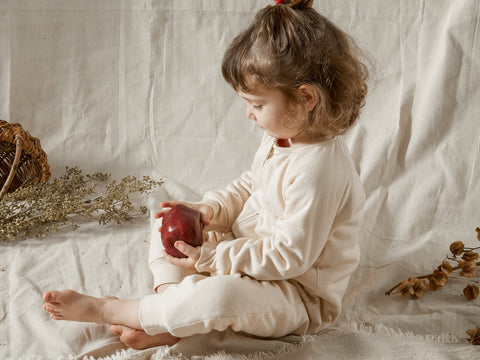 1.2 SLEEVELESS THICKEN HEATED SLEEPING BAG 2.5 TOG
  Compared to the above long sleeves sleeping bag, this sleeveless sleeping bag has a higher degree of TOG - 3.5 TOG which means babies always can feel warm while wearing it. At the same time, the sleeveless design help babies flail arms.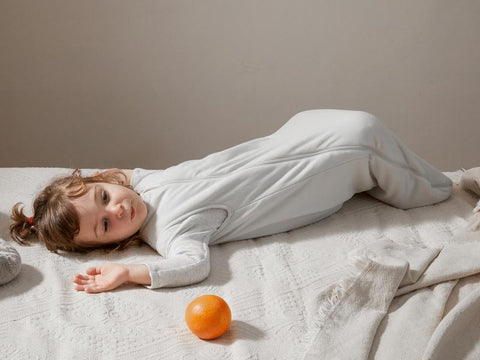 2. Soothing, comfortable baby clothes
  If people want their babies to sleep well, they need to choose soothing, comfortable baby clothes. First of all, parents need to learn how to read the fabric composition of clothes. Babies' skins are more sensitive than adults and become inflamed and irritated easily. So it is better for parents to choose baby clothes that are natural, eco-friendly without chemicals. That is why Kaiya Angel insists on choosing pure fabrics, including 100% cotton, Pima cotton, bamboo fiber, etc. in order to offer babies safety and comfort.
3. good sleep environment
  Sometimes, a bad sleep environment can contribute to poor sleep. It is important to create a good sleep environment for babies.
3.1 non-smoking
  As the victims of passive smoking, women and babies are more at risk from a cigarette. Someone's secondhand smoke is hazardous to people's health. Especially for little babies. Creating a 100% smoke-free environment for babies is a good way to help them have a good sleep.
3.2 calm, warm
  Some parents would like to do activities with their babies before going to bed. But if a baby is overheated, he/she will be hard to calm down and fall asleep. A warm, calm environment is more suitable for a baby to sleep. Creating an ideal room temperature for babies is necessary.
3.3 clean, healthy
  Keeping the sleeping environment clean is important. Because this is not just a matter of physical health but of mental health. 
4. gentle touch
The gentle touch from parents helps to calm babies. Besides, it also can help strengthen the bond between parents and babies. On the other hand, babies also can get more sense of security from touching. A safe feeling helps a baby to have a restful sleep.
Leave a comment