New Mothers Need To Know - All About Baby Creeping
   There will be many "milestone" moments when a baby is growing. Like rolling over, sitting up by themselves, grasping their first toy, the first time swimming, etc. Normally, a baby will start rolling over at two months, and then his/she will try to creep. Baby creeping is one of the most important parts of a baby's growth and development.  
  Today's post will explain all information about baby crawling that a new mother needs to know and help them to learn how to help their babies to crawl.
1. The Benefits Of Creeping Or Crawling
Good For Brain Development
  The process of crawling can exercise both halves of a baby's brain. The left brain is the conscious brain which represents the intellectual. The right brain is the subconscious brain which represents the emotional. Crawling can encourage the brain to grow together.
  Good brain development also can help babies to be calmer and have a better sleep.
  Learning to crawl is important for limb development. After improving limb strength, babies can start to learn to stand or walk. Human life is a continuous learning process step by step. All these things are prepared for further education of babies.
  Babies can feel free while crawling and set up self-confidence. Parents need to know how important to establish confidence in babies. It is one of the important keys to success.
Enhancing Parent-Child Bonding
  Training your baby to crawl can improve communication between parents and babies. After babies can crawl, they have more successful experiences under the guidance of their parents. And they are able to get different feelings during the learning crawl, like excitement, success, and failure. These experiences will enrich a baby's emotions and help him grow better.
Develop Your Baby A Good Character
  Crawling brings babies a lot of unexpected fun. It also exercises the baby's will and courage, which is conducive to the development of the baby's personality.
Cultivate Your Baby's Motivation For Exploration
  The baby's motor and nervous systems are fully exercised in crawling. This is not only good for babies' bones, muscles, nerves and brain development but also can build a good foundation of physiology and psychology for them to know the world earlier and better. These learning experiences will be turned into curiosity. So babies can be brave enough to explore the unknown world. 
2. When do babies start crawling?
  When do babies crawl? Generally speaking, babies will start to crawl from five months. Parents can guide their babies to learn how to crawl. But babies need a process to learn it. For different stages, the crawling power of your baby will increase gradually. Here are the three stages in which babies learn to crawl.
  When a baby goes to five months, parents should be prepared for the baby to crawl. The baby usually will lie on the bed with his abdomen. He will move the body to the left and right to play around. Gradually, he will creep and crawl by himself. But at this time, his abdomen is still attached to the bed. So he only can stretch his limbs irregularly. At this time, parents should patiently give babies help and guide them to learn to crawl correctly.
  At this age, babies will be able to sit alone themselves without support, which means they may soon start to crawl. The baby will raise his head and look around. At this time, his arms, legs and back muscles are strong enough to support his body to avoid falling over. What things should parents do? Parents only need to actively encourage their babies to crawl more and try more. So babies can be skilled in crawling as soon as possible.
  The baby will find that he can push the body and move forward with the help of the knees because his movement becomes more skilled. The baby can also learn how to sit. Parents should be more diligent in training their babies. With more practice, babies can become more skilled. 
3. How To Help Babies Learn To Crawl And Creep?
Use Toys To Attract Babies
  How do they motivate babies to crawl? Parents can consider using some toys to attract babies. Babies are like adults, and they also need a little encouragement and strength to drive them forward.
  No matter how busy parents are, they should spare some time to accompany their babies. It is meant to accompany babies to crawl. On the one hand, the company of parents can bring a sense of security to babies. On the other hand, it is also a good way to boost happiness for babies while crawling.
  Besides, babies may not know how to crawl for the first time. At this time, parents need to set an example for babies to imitate and follow. All learning begins with imitation. Parents also can protect their babies from injury while crawling.
Encourage Your Baby After Crawling
  After your baby finishes his crawl for the day, you can give him some loving encouragement,  and show him attention with actions, give him a warm hug, reward him with a toy or snack. Your baby will have a better experience with crawling and will look forward to crawling again.
  When your baby starts to cry or seems discouraged, don't force him to continue crawling. Instead, you can let your baby try the next day again. If you force him to crawl when he is not ready or does not want to do so, he will only learn to crawl more slowly. You need to let your baby think of crawling as a fun activity that will give him more motivation.  
4. Dos for during crawl
The Floor Should Be Smooth
  If your baby is crawling on the floor at home, it is better to let him crawl on a smooth floor. On the one hand, an uneven floor will cause the baby easy to get injured and may cause skin scratches. So you'd better let your baby crawl on soft padding.
  Remember to keep your baby away from tables and chairs when he is crawling. And don't forget to wrap the sharp angles in the house with a cotton cloth to prevent your baby from getting injuries. There is another way, and you can limit the area where the baby crawls. Make sure your baby is away from the tables and chairs to ensure his safety.
5. Baby Clothes That Are Suitable for Crawling Recommendations
Front Opening Long Sleeve Sleep Sack
  This sleep sack has a wide range of sizes for different aged babies from three months to two years old. And its hemline can be opened, and the long sleeves are removable. Babies' arms and feet both can peek out from the sleep sack. Then they can crawl or move more freely. The 0.5 TOG lightweight design also makes babies wear comfortably without pressure. They won't have the bound feeling.
  The two-way zipper is convenient for taking on and off. Parents can change diapers for babies easier and quicker. After your baby finishes crawling, parents can change clothes for him in time because your baby may sweat during a crawl. You should help him change clean, dry clothes to avoid catching a cold.
  We have updated this sleep sack this year. We used organic cotton to replace regular cotton. Organic cotton is a 100% organic fabric that can offer your baby complete safety. For more information on organic cotton vs regular cotton, please kindly check the below link:
Why is organic cotton better than regular cotton?
Sleeveless Snap One Piece Girl And Boy
  Sleeveless and legs-free are designed for greater freedom of movement for babies. They can crawl, stand, walk, etc., with the feeling of restraint.
  There are three snaps on the bottom, and parents can open or close them easily.
  About this sleeveless romper, a selling point that must be mentioned is the fabric selection. Kaiya Angel always chooses green, environmental fabric for the production of baby clothing. These rompers are made of bamboo fiber. A highly breathable, stretchy fabric that is suitable for babies' sensitive skin. It also plays a vital role in sustainable development. After all, a good environment is necessary and essential for a baby to grow healthy.
Organic Zipper Romper Baby Footie Pajamas
  This is a well-designed baby romper footie. Babies not only can wear it to crawl but also can wear it to walk. There are some no-slip grippers on the built-in footie to against falls.  Considering the safety of every baby, we specifically chose two 100% natural fabrics: organic cotton and bamboo fiber.
Organic Half Sleeves Zip Wrap Romper
  This half-sleeve romper comes from a classic, hot-selling romper. We upgraded its fabric to sustainable organic cotton. The design of this romper is very popular. So many mothers are attracted by it. The most important part is the legs-free design that makes your baby learn to crawl more conveniently. And all specific prints of this romper deal with the theme of nature. These three prints are: bacca pink, bacca mint, and creamy mushroom.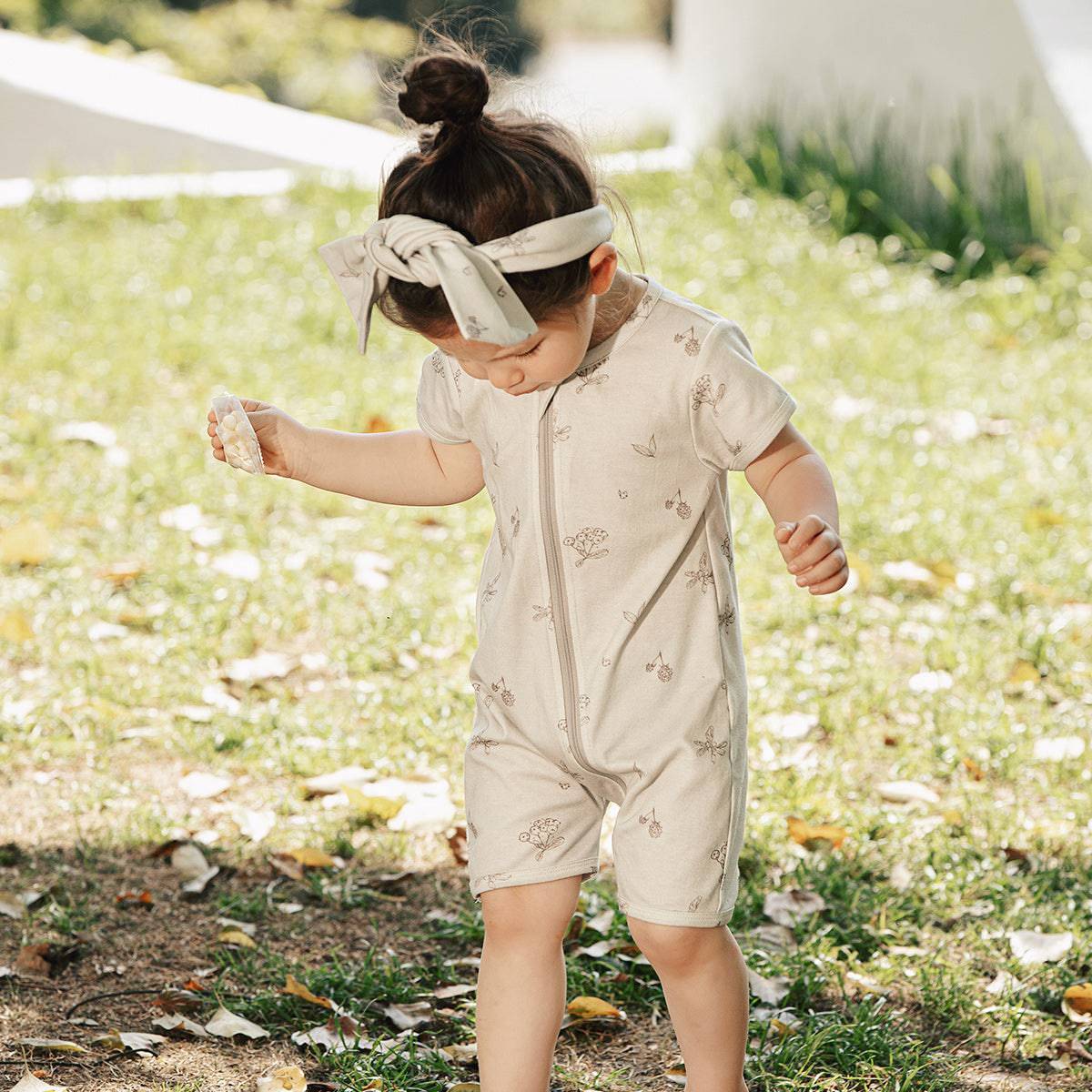 Leave a comment